At PatSeer we plan to apply the same "continuous innovation" process that we have been following in Patent iNSIGHT Pro and so we would like you to be the first to know about all our latest updates made to the platform. Do keep visiting this page to see why we believe real innovation is happening on an innovation research platform.
---
November'16 Release Updates
New Improvements that have gone live this month are:
Result View Enhancements:

View full text of records within search results: If you are working with a single monitor or laptop, it's now easy to view full details of a record in side by side view.
Quick Stats:
Tech domain chart: Generate charts for Technology Domains and Sub Domains as defined by WIPO.
Priority indicator in legal status timeline: The legal status timeline now also indicates the time from when each family member claims priority from.
Project Enhancements:

Apply thesaurus to all records in project: You can now apply created thesaurus to all the records in a project. This is useful if you already have predefined set of rules and would like to imply those in your analysis. The clean name from the thesaurus can be used across all the analysis and filter options.
Image Annotation: Highlight and comment on any image of record: In addition to highlighting and commenting on any full-text portion of the record, you can now annotate an image.
Search Enhancements:
New field code 'ALLCT': The new field code 'ALLCT' is useful when you want to search for all backward and forward citations of the input numbers. You can enter a publication number with or without kind code and the results displayed are the cited/ citing records of those numbers
September'16 Release Updates
New Improvements that have gone live this month are:
Search Enhancements:
Non-Latin Search Form: A new simplified search form for searching across various non-latin languages has been added. The languages covered are Japanese, Chinese, Korean or Thai.
Lookup Chemical Registry Numbers : You can now lookup by chemical registry numbers to find their compound, drug names and other synonyms for including in your search strategies.
Project Enhancements:
Record Annotation : Project collaboration receives a major update to record reviewing. You can now highlight text portions and comment within full-text of records in your project and share your annotations with others.
Result View Enhancements:
View Results grouped by Families : If you do not want to deduplicate results to one per family and instead want to view multiple members of the same family together, a new grouped view allows you group your search results by Simple families and Extended families. The records from the same family are arranged in a group and are represented by the same color shade.
Support for Vertical Side by Side View : If you are working on vertical-oriental monitor or devices, it's now easy to view details of a record at bottom of your screen.
Open different record full-text portions : Now you can open different text portions of records in a separate window. All opened windows will remain synchronized when you move to the next record thereby allowing you to review records faster.
New Improvements that have gone live this month are:
Patseer Content Update:
US patent litigation filings: PatSeer now integrated US Patent litigation data for more than 55K cases starting from 1990. You can now see which patents that have appeared in a lawsuit via a litigation indicator in your search results. Clicking on it gives you further details about the associated Patent Case. You can also sort your results to view all the litigated records first in your result set.
Search Enhancements:
Stack Multiple Search Queries: Remove redundancies, simplify complex query formation and get the flexibility that you always wanted with your search query formation / stacking.

Simplify: Consolidate multiple queries into one makes it easier to interpret and execute large search strategy. Easy numeric references can be used for existing queries in your stack.
Integrates well with Search Scripting: Stacked queries integrated perfectly with the existing search scripting feature to give you the best of both worlds.

Non Patent Literature Search: PatSeer users now have access to prominent science and engineering databases via a single integrated search interface. You can now search across journals, scientific literature, and conference proceedings. NPL Sources include PubMed, IEEE, DOAJ, Springer, Agricola, Agris, and ScienceDirect. More sources are being added. (Some publishers require approval from the provider and so will be enabled on a account level only)
Result View Enhancements:
Thesaurus: Get precise insights by creating and applying thesaurus to your charts and graphs. You can create and upload your own thesaurus for Assignee/ Inventor/ Attorney/ Keywords and further apply them to group results in filters, charts and graphs.
Keyword-in-Context (KWIC) for family members: Now in addition to viewing KWIC for individual records, you can also see small snippets of text from the full text of other matching family members of the record. Data for both Simple and INPADOC family members can be seen.
Set a Preferred Language for Results: You can set a preferred language that is to be given a priority over English for any record that has content available in that language. So for example, using this option you can prefer German content for DE/DD records in your results.
Quick Stats:
Charts Dashboard: Sometimes it takes more than one chart in a single view to tell the story. We have compiled the most popular charts required by users and included them in a single view. Further, you can use any portion of a chart as a filter for the rest of the charts. Drill into any one chart and the rest of the charts will show analysis of the filtered portion.
Project Enhancements:
Clone Projects: Replicate a Project and all its category/custom field settings with a single click using the clone option.
Filter by Project Addition Date: Filter records by the date they were added to your project
The release also includes many other miscellaneous improvements to the usability, exports and performance based on user feedback.
PatSeer adds 15 full-text authorities to its global patent data content and coverage.
The new authorities recently added to PatSeer include Mexico, Eurasian Patent Office, ARIPO, German Democratic Republic, Israel, Taiwan, Colombia, Monaco, OAPI, Morocco and many CIS countries.
Eurasian Patent Office (EA): Full-text collections of Patents and Applications from EA for the period 1997 to 2015 have been added
African Regional Intellectual Property Organization (ARIPO) – we have added full text of Patents and Applications from 1985 till date
German Democratic Republic (DD): We have added full text of Patents and Applications from German Democratic Republic for the period 1970 to 1990
Israel full text added (IL): Full-text of Applications in Israel for the period 2005 to 2015 have been added
Taiwan (TW): In addition to key Asian countries, full-text collections of Patents and Applications for Taiwan have been added. The collections begin from 2013
Colombia (CO): Full-text for Applications from 1995 to 2016 has been added
Monaco (MA) full- text content for Patents has been added
African Intellectual Property Organization (OAPI) full text collection added: We have added full text collection of patents from OAPI
Morocco (MC) full text of patents has been added
CIS Authorities – We have started loading full text collections of CIS Authorities from 2000 to 2015 and expect to complete the same by last week of May
New Improvements that have gone live this month are:
Patseer Content Update:
Mexico full-text collection added: We have added full-text of Applications filed in Mexico. The full-text data begins from 1997. Number of Full-text authorities now increased to 27. See updated full-text coverage details here.
Search Enhancements:
Annotate Family Members Using Search Recall: Now in addition to annotate single record, you can even set a flag for all Simple/Extended Family members of a record at the search results level itself. The Zone Operation Mode within Display Options allows you to rank, flag, and comment on each record at the search results level.
Result View Enhancements:
View Record Count: Now you can view count of records selected for performing further operations like export, adding to a project, etc.
View Citations: It is now easy and simple to view citations of record(s) from results view page itself
Legal Status Timeline: A new enhancement to legal status portion is Legal Status Timeline chart allows not only to refer legal status of a specific record but also the complete life cycle in the form of timeline.
Quick Stats:
Exclude Years In Charts: A new option has been added in Quick Stats to exclude previous years from a generated chart.
Project Enhancements:
Import Records/ Metadata From Other Projects: Reuse custom fields, categories, metadata like ratings, flags and comments, from some existing project
Add Data From Web Of Science: Now you can add data from Web of Science citation indexing service.
Deduplicate Result Set While Adding Records: Now you can deduplicate applications, INPADOC families (Extended) or Simple Families.
Import / Export Categories: New options to import categories from file and export categories have been added. You can import categories from text or CSV files.
Categorizing Individual Records: A new category viewer makes it easy to categorize records while reviewing/reading your results in parallel.
Compare Categories: Now you can find which records are not categorized so that you can review, analyze and categorize those accordingly.
The latest release gone live this month includes the following key enhancements:
Search Enhancements:
Find Similar Patents: You can lookup patents similar to one or more numbers with ease. A new field code SIM has also been added that makes it easy to combine the similarity search with other fields.
Command Line Searching

Query Formatting: PatSeer preserves the formatting of large search strings making it easier to edit them when you go back to your query
Spell Check option: A new spell check option has been added in Command Line too which highlights terms with wrong spelling
One-Click Reload: You can reload previous search queries into their respective search forms with a single click
Result View Enhancements:
Added to Project Indicator: Now you can immediately know if any record appearing in your result has been previously added to a project
Search Recall: Search recall now also tracks which records you have opened and which you haven't.
German Register links: A direct link to register for German publications has been added.
Class Definition Improvements:

FI Class Definitions added: Now you can see FI Class definition directly on the results page
CPC and IPC Class definitions have been updated to the latest versions.

Analyze by Current Assignee: A new Filter and Chart for Current Assignee has been added allowing you analyze your results by the current Assignees
Links to Inventor Profiles: You can now view matching the LinkedIn profiles of the inventors
Drawings + Abstract View: A new result view that also shows abstracts of the records next to their drawings.
Topic Maps: Topic Maps have been completely revamped with new colors, zoom options, better font support and with better user interactivity.
Project Enhancements:
New Sort Option: Sort records in the projects by the ratings assigned to them
Share Groups: Create a group of users and share the project with them in a single go.
Share a Project Report just like an Excel Sheet: You have control over the order in which records in a Project are displayed allowing you to keep the most important records on top.
Export Enhancements:
New Export Fields Added: Original Applicant, Non-self citations and Register Links
Current Legal Status for Indian Granted Patents: Now you will also get the current legal status of Indian Granted patents
Other Enhancements:
Many miscellaneous enhancements to the Record Detailed View, Query Analyzer, Class Definitions display, Result Navigation and more.
Full-text Collections of Denmark, Finland, Belgium, Netherlands and Luxembourg added:
We have added full-text of 5 additional authorities. Most of them are with English translations. Number of Full-text authorities now increased to 26. See updated full-text coverage details here.
German full-text data now goes back to 1920: We have expanded our German full-text collection and added records from 1920-1959 period. So the dataset now includes patent and application filings from 1920 onwards.
Russian full-text translations being added: We are in process of adding English translations to our Russian full-text collection and expect this to be done in 3-4 weeks.
Mexico full-text collection coming soon: We have begun loading full-text of filings from Mexico and more information on this will be available soon.
Searching Enhancements

:

Search Recall: Now you can remember all your annotations and actions for search results so that you don't have review the same record again. PatSeer will remember the entries you do so that they show up in future searches.
User Preferences: Now set default search preferences for your search pages. You can define the record preference, result view options, list of filters that need to be present on your results page.
Search Query Migrator: Convert search queries from other databases to PatSeer using the Syntax converter.
Field Search – Query Preview: Now you can preview your final search query and see how the search fields are combined as you type the query in field search.
Search Tech Domain/Tech Sub Domain: Narrow down your search results to a specific sector/area of interest using additional fields Tech Domain/ Tech Sub Domain.
Corporate Tree Enhancements:

Hide Companies having no patents: Include only companies having records assigned to them and narrow down to relevant set of companies to analyze.
Related Parties: This option matches the assignee name with assignment history and co-assignees and display a list of parties relating to the entered company.

Use Natural Language Query Modifiers in Current Search: Now in Current Search, combine your existing search queries using Natural Language Query Modifiers – NLPL/NLPM/NLPH.
Many usability enhancements to Field and Number Search options

Result View Enhancements

:

KWIC View: View the matched text portion in detail view of a record using a single click. This helps you easily navigate to the highlighted term from KWIC to the section where it appears in full view.
View Citation Category of Citations: Now you can view the citation category established by a patent office, which may be taken into consideration in deciding whether the invention to which a patent application relates is patentable.
See all published kind codes against a publication: View records with multiple kind codes which matched your search query in your result set as separate records.

Project Enhancements

:

List View for Patent Dashlets: A new Custom view type to view the Dashlets in List view format. You can choose between the option as Column or List type while creating/editing Dashlets.

Export Enhancements

: Now share the result set with colleagues/ external consultants for further inputs by including additional Email Ids to send the export completion notification email.
Many other miscellaneous usability and GUI improvements that speed up page loading time.
Full-text Collections of Sweden and Norway added: We have added full-text of Patents and Applications (National Filings) for both Sweden and Norway. The Swedish collection starts from Dec 1979 and Norway collection begins from 1975. Number of Full-text authorities now increased to 21. See updated full-text coverage details here.
Full-text collections of other European authorities are in process of being loaded. More news on this to follow soon.
New Product Enhancements that have gone live this month are:
Searching Enhancements

:

Combine Natural Language Searches with Boolean Searches – Its now possible to combine Boolean searches with your Natural Language Query. Three Query Modifiers NLPH/NLPM/NLPS allows you to use free text searches just like any other field search.
New Syntax operator: Underscore – Use underscore to match all three types of combinations between words – single word, hyphenated word or exact match. So jet_engine will match jetengine, jet engine and jet-engine.
Additional Search Field Codes – We added two new combined fields to simplify searching across Title, Abstract, Independent Claims / Full Claims and Examples
Quick Search Query Preview – Now you can preview your final search query and see how the search fields are combined as you type the query using the live previewer.

Result view Enhancements

Support for Multiple Custom Views – You can now create and save multiple custom views each having a different list of fields and appearance.
Support for new List type Custom View – A completely new view that allows you to see more data in a familiar row-wise format.
Query Builder in Filters – Create sub-queries with ease using the query builder when viewing search results or when filtering inside projects.

Custom Field Enhancements

Customize your custom field layout – You can now rearrange the enabled custom fields in a grid/tabular style view so as to prioritize important fields and make browsing records more efficient.
Custom Tables – Capture even more complex relationships on a per-record basis with the introduction of custom tables. These tables can help you save relational multi-valued data per record.

Many other miscellaneous usability and GUI improvements that speed up page loading time.
New Improvements that have gone live this month are:
PatSeer Content Update

Extended Singapore Biblio Records added – Since the INPADOC collection had gaps, we have add extended bibliographic data for Singapore Patents, Utility Models and Designs from the period 1984-2015.
Chinese full text content in original Chinese Simplified language – While full-text Chinese translated English content was already present, PatSeer now also has full text data in Chinese Simplified language for all Chinese records. Both original language and English machine translations are updated weekly.
Russian Industrial Design Grants added – Full-text and Images for Russian Industrial Designs Grants covering the period 1992 to 2015 has been added.

Searching Enhancements

"Hybrid" Search Engine Enhancements – Greater flexibility provided when Deduplicating by INPADOC/Simple family and you now have even greater control on which family record is displayed and analyzed in the result set.
New Search, Filtering and Analysis Fields – Four new powerful fields that make your search, analysis and filtering more easy and efficient!

Geographical Regions (REG) – You can filter and analysis results by a particular region of the world. Say Europe, Asia, Americas and others. Sub-regions such as South Asia, Central America et al are also supported.
Assignee Type (ASNT) – All Assignees are now categorized as a type such as a company, individual etc
Technology Domain (DOM) – You can restrict your search by various Technology Domains such as Electrical Engg, Instruments, Chemistry, Mechanical Engg and others.
Technology Sub-Domain (SDOM) – You can also restrict your search by Sub-domains such as Electrical Machinery, Audio Visual Technology and other.

Display Enhancements

Redesigned Patent Drawings Browser – A redesigned drawings view has been added with the aim of reduced the time it takes to flip through patent drawings…. (Based on feedback from searchers who don't care much for the text !)
Miscellaneous improvements to result views and pages – We know you need faster navigation and better control on what gets displayed and many small but impactful improvements have been made on these lines.

Project Custom Fields

– Greater flexibility and display along with even more types of custom fields (Such as Range Fields, Multi-valued list etc) make sure that PatSeer Projects remains the unmatched option for Enterprise wide patent research data management and collaboration.
Usage Tracking – Along with counts per feature you can now see details of when and how many times you used each feature and with what parameters!
New Improvements that have gone live this month are:
German full-text collection augmented with content from 1960-1987 : We have recently extended our existing German full-text content with older years and you will now be able to search and view full-text of German patent, application and utility models from 1960 onwards.
New Improvements that have gone live this month are:
Search Related Enhancements

Search Query Migrator – Reuse all your previously saved queries with ease! The newly added query migrator makes it easy for you to convert your older queries from other databases into PatSeer syntax compatible queries.
Searching words with Case Change – Many words in inorganic chemistry or molecular biology have a case change and sometimes their name can conflict with regular words too. In the new release you can search specially for word with case change by including them in double quotes. So for example searching for "mRNA" will match mRNA and m RNA and will not match mrna
Searching for Back/Forward citations of a query – New Query modifiers BCTOF and FCTOF make is very easy to lookup all the backward and forward citations of a query respectively

Direct Links to the Register – Now you can directly open the register data for records when viewing family members. Clicking on the Register link will open the record directly at the PTO website depending upon the country of the record.
New Visualization for Topics – A new Topics Chart visualization has been added to Quick Stats which allows you to visualize hierarchical topics data, depicted by concentric circles. You can drill down into any topic to view its subtopics or the records behind it.
Import filter for popular Journal formats – You can import popular journal formats directly into a PatSeer Project with a new built-in import filter.
Record Summarization (Beta)– A new Summary tab shows you portions of the description that could help you understand what the invention is all about without having to read the whole description. The tab captures brief summary of the invention indicating its nature and substance, which may include a statement of the object of the invention. Also, advantages/ benefits/ improvements of the invention, if present would also show.
Usage Tracking – You can now see your usage of the applications and its features over a time period. Manager users can also view the feature wise usage of their sub-accounts.

Miscellaneous enhancements

:

Many usability and GUI improvements to the home and search pages
User profile related improvements including setting a profile picture
New Improvements that have gone live this month are:
PatSeer Content Update

:

Philippines Full Text Collection added – We added Full text collection Patents and Utility Models from Philippines. The full-text data begins from 1975 and we are in process of filling up known gaps. Number of Full-text authorities now increased to 19. See updated full-text coverage details here.
German Full-text Translations added – English translations for German Patents, Applications and Utility Models has been added.

Keyboard Shortcuts – Browse search results and execute common actions such as opening PDFs, Images or opening or marking a record without using the mouse. The new release includes an elaborate, easy to remember set of shortcut keys that help you save time and make navigation a whole lot easier.
Topics – Quickly see key concepts and technologies present in your search results without having read each record. The topics are also available for filtering, analysis and mapping and are very useful when looking for hidden insights and R&D opportunities
Synonym Lookup – An integrated Synonym / Related Terms lookup helps you quickly get alternative terms (including synonyms) for your search term.
Attorney Filtering & Charting – Analyzing Attorney/Agents has been made easier by adding Attorneys to filtering and charting options.

PatSeer Projects

:

Support for NPL / Journals / External Records in Projects – A major new improvement in our current release is support for adding and analyzing NPL alongside patents within Projects. Combine your patent analysis with scientific publications and share/collaborate the results with your colleagues.
Deduplicate Records within Projects – You can deduplicate records within your Projects by Application/Patent and also by one-member per family (Simple/INPADOC).
Other enhancements such are new custom field types and sharing improvements

Export Enhancements

:

Export Family Members  – You can easily export all family members for each selected record with this new export option. All members will appear as separate publications in the exported file.
New export format – An new PDF export format has been added
Other improvements include exporting First Named Inventor, Publication Number in Patent Office format

Many other miscellaneous usability improvements to searching, result viewing and sorting based on feedback from clients.
The release scheduled in last week of November rolled over into the first week of December and went live on 2nd Dec. The New Improvements are:
PatSeer Content Update

:

Russian Full Text Collections being added – We have started loading the Russian Full text collections and expect to complete the same by last week of December. Number of Full-text authorities now increased to 18. See updated full-text coverage details here.

Search Enhancements

Limited Truncation – We have added support for Limited Truncation in the search syntax. For example: mix*2 will match mixer and mixed but not mixing. Similarly colo*1r will match color and colour both. Limited truncation is supported for right and middle truncations only.
Special Characters Keyboard – A virtual keypad has been added to include various symbols like alpha (a), beta (ß) or even range of temperature (°) in search queries across search interfaces.
Search Script Enhancements – Now you can set your default Saved Search script for the session, so that all queries that you do get automatically added to the saved search script.

Online Bulk PDF ordering and Cart Support

: The new release now has integrated online PDF ordering system with a integrated PDF cart. So you can submit multiple PDF copies to be downloaded in a single batch. All the PDF documents you requested are zipped together and an email with the link to download the zip file is mailed to you.
Drawings View Enhancements

Thumbnail navigation when viewing Drawings:  The Drawings view has been remodeled completely and thumbnails have been added so that you can quickly select a drawing of interest.
Zoom Support for Front Page Drawings – All front page drawings can now be zoomed, rotated and rest to the original size.

Full Text Navigation Hit Map – A small mosaic showing where all the highlighted words have occurred in the document has been added. You can click on any of the dots to jump the portion.  You can even compare the maps of two documents side by side !
Legal Status Timeline Enhancements

Support for Designated States – You can expand EP and WO records to see individual events across their designated states.
Display Reassignments in the Timeline – You can view change of ownership right in the chart itself and the new Assignee names can also be exported along with the chart. So the legal status timeline chart can be reused as an Reassignments timeline chart too.

Links to referenced Non-patent Literature documents: Non patent literature referenced in any patent record if available online can be automatically searched via Google Scholar.
New Custom Field type in Projects: Multi-select lists has been added as a new type of custom field that you can define within Projects. This list type field allows multiple items to be selected per record.
New Improvements available in Oct 2014 are:
PatSeer Content Update

:

US Record type and Term Extension/Disclaimer Information Added – Every US record is now classified as a Continuation/CIP/Divisional/Additional/Reissue and is searchable using a new search field TTYP. Also if a term Extension or a Terminal Disclaimer is applied then that too is searchable by the same field.
US Expiry Dates now factor Term Extensions/Terminal Disclaimers/Extended Expiry Dates– You no longer need to go into US PAIR / Orange Book or PDF to make an estimation of the Expiry Date for a US granted patent. The Estimated Expiry Date (EED) field now factors the revised expiry dates.

Search Enhancements

Family Searching – A new "Restrict to certain countries" option has been added when searching Family-wise. So, you can now restrict your search to families that must contain one of the country codes you give. This is specifically useful when doing FTO, Infringement and any other type of searches which are country specific.
Combine older search queries using identifiers – All your search queries have an identifier allowing you to easily combine them later using AND/OR/NOT. This was earlier possible using Search Scripting but you can now do this also directly for any older query from the Search History.
Comments and Tags – Its now possible to add comments and tags to any search query and also filter older queries by the tag applied.
Number Search Improvements – The new Number Search form makes it easier to search for family members and citations of publications.

Detailed Field Code Reference Portal launched –  A new Field Code Reference portal has been added that gives details for each search field along with example usage and other related details. The portal acts as one-stop guide for using appropriate field codes, their syntax and related fields.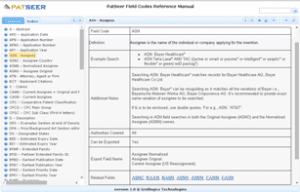 Highlight Profiles – Based on user feedback, you can now save a set of highlighted terms and their colors in a highlight profile and quickly apply them to a new search query.
Compare any 2 records side-by-side – When viewing records in Detailed View you can quickly compare it side-by-side with any other record.
Alert Enhancements – You can now browse through the full-text of your search alert results in easy to read Word/Excel files without having to log into the application.
New Improvements available in Sep 2014 are:
Family Legal Status Timeline Chart – New Family Legal Status Timeline chart has been added to PatSeer. This is based on analysis of the INPADOC family legal status information. The legal status timeline provides a graphic representation of the legal status changes to all family members during the lifetime of the record.
Mosaics – Now you can browse multiple drawings in a Tiled view instead of viewing them one-by-one.
Class Definition Browser – New class definition browser allows you to view the class descriptions for all the classes present in the detailed view on a single click. You can also which additional classes are present in the simple/extended family in the same view.
New Full Text View – A new "Full View" added to the Detailed view allowing you to see the full text of the record in a single screen.
Compare record with family or citations – Now you can not only view details of a single record but also compare it with details of its family/ citing records/ cited records in the same view in a side-by-side fashion.
Filter Enhancements – Based on user feedback, many improvements to the filters including being able to hide unused filters, collapse the filter pane, highlight applied filters and create date/numeric custom field range filters within projects.
Integrated help guide highlighting new capabilities – An integrated help guide for every new release has been added on the home screen allowing you to easily understand what the new capabilities are and how to use them.
Many other performance and usability enhancements – For fast scanning through records the Detailed view has been completely  redesigned and made 100% faster
New Improvements available in Aug 2014 are:
PatSeer Content Update

:

Japanese Machine Translations added: JP Applications Full-text Machine Translations in English has been added to PatSeer. Translated data for JP Patents and Utility Models is presently being loaded and is expected to complete by end of this month.
2 Additional Full-text Authorities Being Added: Full-text authorities now increased to 17 – Thailand and Brazil Full-text data is being added to PatSeer. The full data loading should be completed by the 3rd week of August. See updated full-text coverage details here.

Real-time Syntax Highlighter: Get your command line syntax correct in real time with our new query highlighter that points common syntax mistakes as you type!
Search Query Analyzer: Professional searchers who form very large queries usually keep wondering which words contribute in what proportion to the final result count. The Query Analyser now shows you exactly the counts contributed by each element in your query.
Quick Search Form Revamped – The new Quick Search form makes it easier to build queries with many fields.
Charting Improvements: A new Radar Chart added to the list of multi-dimensional charts you can create.

PatSeer Project Filtering Improvements

:

Improved Project Filters: You can now filter by Read/Unread records and we have also simplified the filter layout.
Advanced Category Filters: Detect hidden insights with ease with the new advanced categorization filter that allows you to perform complex Boolean filtering through multi-level categories.
Key improvements available in June 2014 are:
Content Update: Indian Design Applications

: All design registrations from 2009 onward along with Front Page Clippings are now live and searchable by Title and Locarno class.
Kind Code support in Deduplication preference: Get greater control in selection of which family member to display in your result set. When Deduplicating records by simple/extended families you can now specify the kind code. So the dedup. preference can be given like: USB*, USA, EPB*, WO, JPC . Its not mandatory to give kind code however. You can still give a preference like: EP,WO,US
New Minimum Must Match Query – Use any# to enforce a minimum number of words to match within an OR'ed list. E.g TAC:any2(compute* or terminal or pc or laptop) – This will match any 2 words from the list of words in OR query. Similarly you can use any5, any10 etc.
New EFAMOF() and SFAMOF() query modifiers – Get all family members for resulting records of your query in one go ! These Query modifiers will take another query as in input and will return all the family members of the results of that query. E.g. EFAMOF(TAC:antivirus) – This query will give all extended family members of the results of TAC:antivirus in the search results page. Any complex query can be passed as an argument to these query modifiers.
Precision Assignee/Inventor Filtering:  Worried about any misspelt or lesser popular company name being left out when filtering by Assignee? Now expand any name in Assignee or Inventor filters to locate other similar names that may be present much lower in the list. This allows you to be lot more precise when filtering by Assignee or Inventor.
Project Personalization Options: Brand your organisation when delivering your dashboard ! Capability to add own company logo, URL, contact person and contact name inside projects that helps give your company's branding in your work.
Read/Unread records indicator: Don't waste time reading the same record twice ! PatSeer tracks your Read/Unread records within projects so that you don't have to re-read the same record.
Project Sorting by Last Added Date: Locate the newly added records with ease using this new sorting option.
Key improvements available in May 2014 are:
Corporate Tree Database Expansion

  – The erstwhile Top 2500 Corporate Tree database has been expanded to include 3000 top patent holding corporate groups.
SLART Support – Full SLART (Simultaneous left and right truncation) query support has been added to add searchers in pharma and biotech fields.
Keyword-in-Context (KWIC) View – Save time when scanning through the full text of records for matching search term hits with the new KWIC view which shows you all matching hits within their original paragraph (context).
Many other functionality and performance improvements to Multi-dimensional Charting, Projects and Find Matching Assignee/Inventor.
Mar-Apr'14 Release Updates
Key improvements available in the Mar-Apr 2014 Release are:
Enhanced Result Hit Analysis Map

– Analyze keyword hits counts across Title/Abstract/Claims/Description for records in your results set in a single view. We integrate this highly powerful multi-record hit analysis map right in your result-set view (as opposed to viewing it per-record) so that it helps at the result-scanning phase itself.
"First in Industry" Hybrid Family + Publication based engine

 – We now integrate a dual-family definitions engine and a publication based engine at search level itself to combine the benefits of both databases and offer you full flexibility in how you search, display and view your result-set. To understand how and why this is different from all other existing patent database systems see Related Blog Article to learn more about this unique and powerful capability.
Locarno Classification Search – Full Locarno classifications have been updated and loaded into the database. They can be searched for US Design patents published since May 1997.  The Field code is 'LOC'.
Revised Current Legal Status Categories – Based on an "overwhelming" set of feedback from users, we revised our legal status analysis and now classify records into the cleaner set of categories. When combined with the Record Type field that classifies records into Patents / Applications / Design / Utility / Plant , the new Legal status field can do wonders to your analysis.
Co-classification Similarity Search – Quickly look up records similar to an existing record using the co-classification search field. You can run similarities by IPC, CPC and US Class either individually or even combine them into a single query.